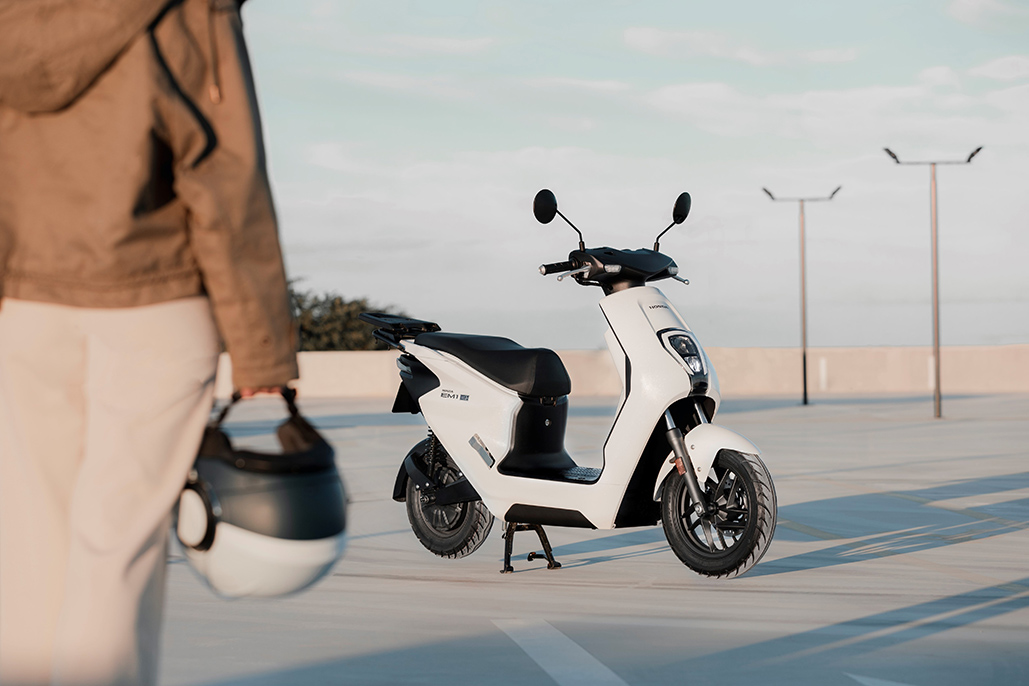 New Model: Honda's first EV for young European riders is here. The EM1 e: is equipped with a swappable Honda Mobile Power Pack e:, delivering real convenience, and fun, emission-free urban transport. An in-wheel electric motor supplies the drive; usable range is 41.3km and top speed is 45.0km/h. Specification includes digital instrument display, underseat storage space, USB socket, pillion footpegs and rear carrier.
Introduction
The EM1 e: is Honda's first two-wheeled electric vehicle for customers in Europe, following the announcement in September 2022 of the company's plans to introduce 10 or more electric two wheelers globally by 2025. It is also a notable first step towards meeting Honda's stated aim of carbon neutrality for all its motorcycle line-ups during the 2040s.
The 'EM' stands for Electric Moped, and the model is aimed squarely at a young demographic looking for easy, fun, emission-free urban transport. It is compact, flat-floored, with smooth styling that marks out its difference and unique identity within the Honda range.
Perfect for short hops around town and making journeys to work or college efficient, quiet and emission-free, the EM1 e: syncs neatly with modern expectations for urban mobility.
And, as growing local legislation around parking in cities across Europe restricts the use of traditional Internal Combustion Engines (ICE), quite naturally the EV market is growing. Honda is now entering this space with a fresh, high-quality choice for both young riders and short-range commuters alike.
For a typical student, who might do a 30km total 'lap' of the city during an average day, the EM1 e: is a compelling proposition: simple to ride and to handle, quiet, environmentally- friendly transport.
And the first of many.
Model Overview
Compact, easy to use and offering clean mobility with fresh new styling, most of the EM1 e: is conventional: steel underbone frame, telescopic forks, twin shock absorbers and disc front/drum rear braking are classic moped features.
What's really new are the electric in-wheel motor and Honda's own Honda Mobile Power Pack e:, which can be removed for easy recharging at home using the bespoke charging unit.
The EM1 e: is fully equipped with digital dash, high quality switch gear, long floor area, underseat storage space and USB charging socket. It also features pillion footpegs, rear carrier and side stand for speedy parking.
Usable range is 41.3km with a top speed of 45.0km/h.
Also new is the sales method. To ensure customers do not have to take responsibility for the disposal or recycling of the Honda Mobile Power Pack e:, the EM1 e: together with the Honda Mobile Power Pack e: and charger will be available based on a lease, rental or subscription scheme, depending on the country. This will give customers complete peace of mind throughout the life of the EM1 e: regarding both the continued performance of the Honda Mobile Power Pack e:, and its eventual disposal.
The 2023 (23YM) EM1 e: will be available in three contemporary colour options:
Pearl Sunbeam White
Digital Silver Metallic
Matte Ballistic Black Metallic
Key Features
3.1 Battery & Charger
Honda durability ensures over 2,500 charges are possible
160 minutes to charge from 25% to 75%
50V Honda Mobile Power Pack e: swappable lithium-ion battery pack
270W air-cooled charger for domestic use
The EM1 e: is powered by the 50V Honda Mobile Power Pack e:, developed in-house by Honda with the same relentless focus on durability, reliability and quality for which its internal combustion engines have long been known.
A single charge will offer a usable riding range of 41.3km or approximately 48.0km in ECON mode under Honda's internal test conditions (30km in WMTC Class 1 testing conditions) and the Honda Mobile Power Pack e: is designed to withstand different temperatures, humidity levels, impacts and vibrations.
As its name suggests, the Honda Mobile Power Pack e: is a swappable battery that can be easily removed from the EM1 e: for charging in the comfort of home. Operation is simple: the charger, complete with air-cooling fan, draws from a single phase AC100-240V domestic source and produces 270W maximum. Weight of the charger is 5.3kg and LED indicators show charging status in 4 segments. The Honda Mobile Power Pack e: itself weighs approximately 10kg and can be easily carried and replaced thanks to an easy-to-hold handle.
From zero to maximum, charging time is approximately 6 hours; from 25% to 75%, only 2.7 hours (160 minutes) are needed. Honda's famed durability means that the Honda Mobile Power Pack e: can be charged over 2,500 times (internal testing conditions**).
The in-wheel motor is rated at 0.58kW output and produces 1.7kW at peak. In ECON mode, output is set at 0.86kW. Top speed is 45km/h and the EM1 e: can climb a 10° angle with a weight of 75kg on board. ECON mode softens throttle operation and reduces top speed, extending usable range to approximately 48.0km.
3.2 Styling & Equipment
Digital instrument display and USB Type-A charging socket
3L underseat storage
Rear carrier and pillion footpegs
Deliberately shaped to stand apart from its ICE siblings, the EM1 e: is slim and compact, blending a mixture of smooth, organic curves up front with a more angular, purposeful rear section.
A 12V battery powers the scooter's systems and all lighting is LED. A simple digital dash displays all the information that matters concisely, including remaining battery charge percentage.
There's 3.3L of storage space under the seat, and an inner pocket large enough to store a 500ml PET water bottle can be found on the left side of the fairing front; on the right a USB socket for smartphone charging is a useful feature. There's also a handy hook to hang a bag from, and grab rails for the pillion passenger.
A rear carrier is also fitted as standard while the pillion footpegs fold neatly into the bodywork when not in use.
A useful 35L top box and rear carrier will be available as an optional accessory.
3.3 Chassis
Steel underbone frame, telescopic front forks and twin rear shocks
740mm seat height, 95kg weight including battery
Front hydraulic disc and rear drum, linked by CBS (Combined Braking System)
While a lot about the EM1 e: is new, its chassis is more familiar and all at once effective, reassuring, lightweight and tough with easy, confident handling the goal. It's supremely compact, just 1,860mm in length with a very manageable 740mm seat height. Ground clearance is a healthy 135mm and maintenance weight is just 95kg including battery.
The frame is a durable steel underbone design; 31mm telescopic forks are matched to twin rear shock absorbers equipped with double tube dampers. Rake and trail are set at 27°/77mm against wheelbase of 1,300mm.
Tyres are sized 90/90-12 front and 100/90-10 rear. The front wheel is cast aluminium, the rear an aluminium/steel composite design. The brakes – 190mm/single-piston caliper disc front and 110mm drum rear – are linked by Combined Brake System (CBS) for smooth stopping control. When the rear brake is activated, CBS distributes braking power to the front caliper.
Technical specifications
MOTOR
Electric motor type
In-wheel 3 phase brushless motor
Top Speed
45km/h
Maximum Power
1.7kW
Maximum Torque
90.0Nm
Range (per Mode)
WMTC Mode (Class 1) – 30.0km*

Usable range (internal testing conditions) – 41.3km

Usable range in ECON mode (internal testing conditions) – 48.0km

*WMTC mode testing indicates the range covered at full power. Further distance can be travelled up to 41.3km with restricted power.

Energy Consumption (WMTC Class 1)
47 Wh/km
BATTERY
Battery type
Lithium ion
Battery voltage
50.3V
Battery capacity
29.4Ah
Total number of battery packs
1
Battery fixing type
Removable
Battery Technology
Honda Mobile Power Pack e:
Battery weight
10.3kg
Battery dimension
298mm (L) x 177mm (D) x 156mm (H)
Charger type
Off-board type. Single-phase AC100-240V 50/60Hz.
Charging time (0-100%)
6.0 hours. Charging time may vary depending on the charging environment
Charging time (25-75%)
2.7 hours (160 minutes). Charging time may vary depending on the charging environment
Rated Power
270 Watts
Battery Lifecycle
Over 2,500 charging cycles (internal testing conditions)
CHASSIS
Frame Type
Underbone type
Dimensions (L´W´H)
1860mm x 680mm x 1080mm
Wheelbase
1300mm
Caster Angle
27 degrees
Trail
77mm
Seat Height
740mm
Ground Clearance
135mm
Vehicle weight (with battery)
95kg
Turning radius
2.0m
Suspension Front
Telescopic forks
Suspension Rear
Twin shock
WHEELS
Wheels Front
Cast type
Wheels Rear
Composite
Tyres Front
90/90 – 12
Tyres Rear
100/90 – 10
BRAKES
Type
 CBS
Brakes Front
 Disk
Brakes Rear
 Drum
INSTRUMENTS & ELECTRICS
Instruments
LCD
Headlight
LED
Taillight
LED
USB
Yes – Type A
Key type
Standard
OTHER
Load capacity
180kg
Seat length
590mm
Seating Capacity
2
Climbing Angle
10°@ 75kg
All specifications are provisional and subject to change without notice.
*Please note that the WMTC figures provided are results obtained by Honda under standardised testing conditions prescribed by WMTC. Tests are conducted on a rolling road using a standard version of the vehicle with only one rider and no additional optional equipment. Actual range may vary depending on how you ride, how you maintain your vehicle, weather, road conditions, tire pressure, installation of accessories, cargo, rider and passenger weight, and other factors.
**The Honda Mobile Power Pack e: battery's performance is influenced by several factors including type of usage and usage environment. Battery charging time and number of charges are based on Honda's estimated figures from internal testing. Figures are shown for reference only, and not guaranteed.
For more Honda Motorcycles UK news check out our dedicated page Honda Motorcycles UK News
or head to the official Honda Motorcycles UK website honda.co.uk/motorcycles.html