GIVI has selected 5 perfect products to give as gifts on this special day, especially if your dad likes to travel on two wheels
The 18th of June is Father's Day in the UK. It's an occasion to say thank you to the person who gave you life, who looked after and educated you. It's the perfect excuse to give back a small part of their devotion, while remembering they also have passions and hobbies. GIVI has prepared a selection that is guaranteed to thrill those parents who spend the year planning motorbike trips.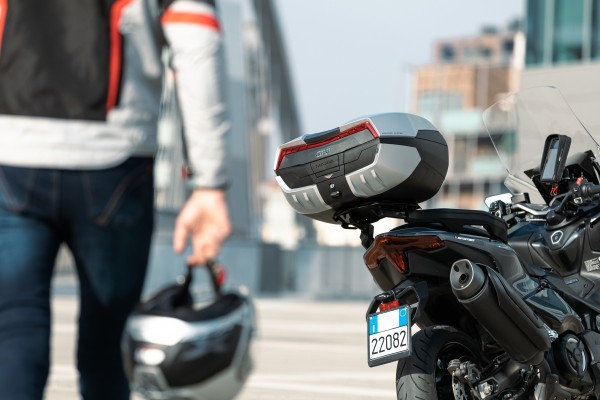 GIVI, the Italian motorbike and motorcycling equipment brand, has made it its main goal to make the motorcycle enthusiasts' life easier, as they share a passion. For 45 years it has been designing and producing all kinds of cases, backpacks, accessories and helmets that allow them to continue to enjoy their hobby and way of life in comfort, without having to worry about anything. What better gift than this for a father? After they spent half their lives looking after us, we can now look after them from a distance with this selection of GIVI products for Father's Day.
  MAXIA 5  
The MAXIA 5 is the transalpine company's principle new release for 2023 and represents a leap into the future. This fifth version of GIVI's legendary top case has a capacity of 58 litres, placing it at the top of its line. It's also lighter and stronger than its predecessor. With a sleek, futuristic design, it offers a large storage space that is also highly secure thanks to the use of premium materials and the inclusion of a mat inside to prevent objects from sliding around. With countless accessories (not included) for customisation, the MAXIA 5 top case is available from £355.83 + VAT.
  E206  
One of the GIVI accessories compatible with the modern MAXIA 5 is the folding trolley E206. This product is a clear example of the Italian brand's goal as it makes life easier for all those who travel by motorbike, whether on a daily basis or on long routes. Compatible with all cases with a MONOKEY® system, it makes it possible to move these top cases easily and without the need to carry a heavy load. It comes equipped as standard with replaceable anti-noise wheels and a long retractable extension handle. Available for £53.75 + VAT.
  EA133  
As well as a reliable saddle and good equipment for the rider, long motorbike trips require ample storage space. Depending on the route and the number of days, a single top case may not be enough. In that respect, GIVI offers numerous options, including the EA133soft side bags. Featuring a 25-litre capacity, they are made of water-resistant 600D/PU polyester with PU inserts and reflective piping, as well as matte black reflective material for better visibility, anti-slip PVC on the back and flame retardant fabric on the base. They have straps that are placed under the saddle, to allow the bags to be attached by way of a double ring system. What's more, they are fitted as standard with a roll-up closure system to ensure total waterproofness, as well as a water-resistant inner lining with heavy-duty webbing, zipped front pocket and shoulder strap and handle for easy carrying. Available for £132.50 + VAT.
  Full face helmet 50.9  
Always committed to constant innovation as well as actively responding to the needs of the user, GIVI's 20 years of experience designing and producing top level helmets have resulted in the launch of the 50.9 sport touring helmet. With a technopolymer shellin three sizes, it has ECE 22-06 homologation, the most recent and demanding homologation to date. This helmet guarantees rider protection, as well as ventilation (thanks to its three front air intakes and two rear extractors) and comfort, and boasts of features such as the integrated retractable sun visor, which prevents glare. The 50.9 is available in different graphics, in sizes XS to XXL, from £158.90(price depends on graphics).
  First Aid Kit S301  
Safety is always the most important thing when travelling on two wheels, regardless of the type of motorbike. Therefore, in case of any unforeseen event, it's essential to have a product such as the S301. It contains everything you need on the off chance first aid is required, such as bandages, gauze and adhesive tape. Its red colour makes it easy to find, even for those who are not familiar with its location. It can be purchased for £15 + VAT.
These, and many more GIVI items, provide a boost for motorcycle trips and make any journey on two wheels a more comfortable experience. For more information about these products or any other accessories for your motorcycle visit www.givi.co.uk or call 01327 706220.