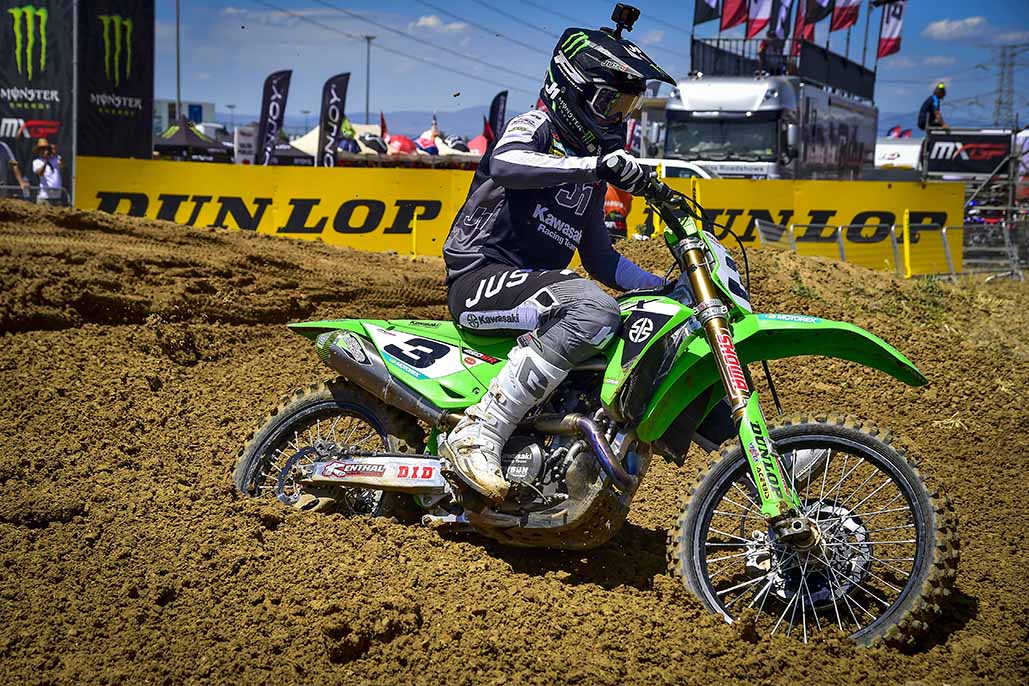 Infront Moto Racing and Dunlop have further extended their partnership. The race-winning tyre brand has signed a new multi-year agreement to remain an Official Tyre Partner to the series.
Teams competing in MXGP, the highest level of motocross, have a free choice of tyres. In recent years, Dunlop's race-winning tyres have been the choice of several top teams including Kawasaki Racing Team, Standing Construct Honda, Husqvarna Nestaan MX2, and a selection of top WMX teams.
MXGP at the forefront of Dunlop Geomax development
The renewal of this partnership signifies the continuation of a highly fruitful collaboration that has served as an ideal testing ground for the latest technologies and patterns introduced in Dunlop tyres over the last decade. The Geomax line of tyres has undergone continuous improvement over the years, with notable advancements from the MX51 and MX3S to the latest MX33 and sand-specific MX14. These tyres feature unique designs and performance features that are accessible to motocross riders across the globe of all levels, ensuring the best performance on any terrain.
Dunlop Geomax MX14, which is designed for softer and sand surfaces, was introduced last summer. The MXGP Championship was instrumental in testing this new product, highlighted by the Lommel GP win in 2021 for Febvre while still in the development phase. In 2022 Brian Bogers was the undisputed king of Lommel together with the new MX14.
Dunlop, a brand at the heart of motocross
Dunlop's pioneering spirit is evident throughout motorcycle racing, including its success in motocross. These tyre innovations have been instrumental in shaping the sport and raising the bar for performance, further cementing Dunlop's position as a leading brand in motocross.
The full Geomax line is also the product of more than 173 national AMA championship titles Dunlop has facilitated, including every title in both the AMA Pro Motocross and Supercross championships since 2010.
Infront Moto Racing CEO David Luongo: "Dunlop is a historical partner of MXGP and we are very happy to announce that it will continue for three more years. The MXGP World Championship is a fantastic laboratory to continue to develop new technology for the tyres thanks to the diversity of its track, from sand to hard ground soil. I would like to thank Dunlop for their trust and collaboration and I am sure we will continue growing this fruitful partnership."
Wim Van Achter, Motorsport Manager, Dunlop: "We are thrilled to continue promoting our tyres through the MXGP championship and utilising it as an essential part of our tyre development process. Our range of tyres, including the versatile Geomax MX14 and MX33 models, reflect the hard work and dedication exhibited during competition, which is made possible by collaborating with esteemed riders such as Romain Febvre and Kay De Wolf."
For more Dunlop Tyre news check out our dedicated page Dunlop Tyres
or head to the official Dunlop Tyres UK website visit dunlop.eu/en_gb/motorcycle.html