Icons Motorcycle Collection Takes a Ride Back to the Swingin' 60s.
The Electra Glide® Highway King model, the third instalment in the Harley-Davidson Icons Motorcycle Collection program, is an exercise in unabashed nostalgia.
Laced wheels, wide-whitewall tyres, a two-tone windshield, solo suspension seat and carefully curated colours are all inspired by a true Harley-Davidson icon – the 1968 FLH Electra Glide® model, a motorcycle that ruled the road in an era of paper maps and 15-cent burgers. The limited edition Electra Glide® Highway King model combines the flair of the Swingin' 60s with the comfort and technology of a modern Harley-Davidson® Grand American Touring motorcycle.
The Icons Motorcycle Collection is an annual program for the limited release of a new model that offers a fresh interpretation of an iconic Harley-Davidson® motorcycle. A limited collection, each model is individually numbered and produced only once. Global production of the Electra Glide® Highway King model will not exceed 1,750 examples.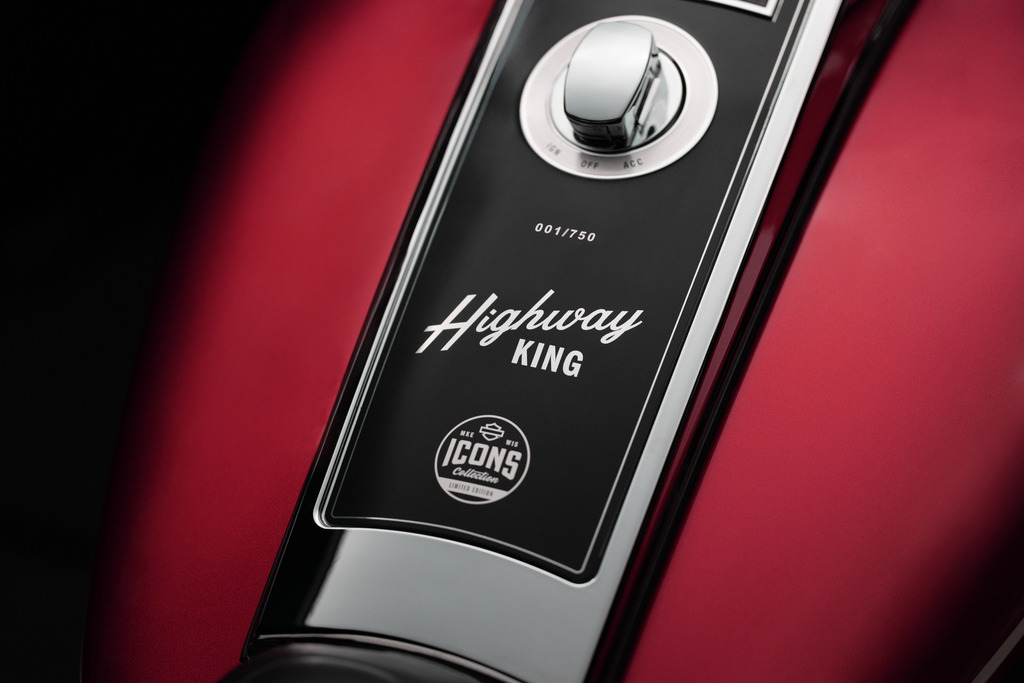 The Icon
In 1968 the Electra Glide® model topped the Harley-Davidson® motorcycle line. Riders who wanted a little extra touring comfort and convenience could order theirs with the King of the Highway accessories group, which added fiberglass saddlebags, a windshield, a luggage rack over the rear fender, and engine guards.
"In its day this was a really deluxe motorcycle," said Brad Richards, Harley-Davidson Vice President of Design and Creative Director. "The colours we've selected for the Highway King model are reminiscent of the original colour options offered in 1968. We carefully matched each colour in the lower section of the windshield. In 1968, the accessory fiberglass saddlebags were only offered in white, so we've done the same in 2023. The result is a thoroughly modern motorcycle that looks unapologetically old school."
The Highway King model will be offered in two colour options: Hi-Fi Orange (limited to 1,000 produced) and Hi-Fi Magenta (limited to 750 produced). Hard-shell saddlebags are finished in Birch White, and a Black Denim panel on the fuel tank is separated from the primary colour with a Birch White accent stripe. The tank badge is very similar to the one used in 1968. An
Icons Motorcycle Collection graphic and serialization badge is laser-etched into the console insert.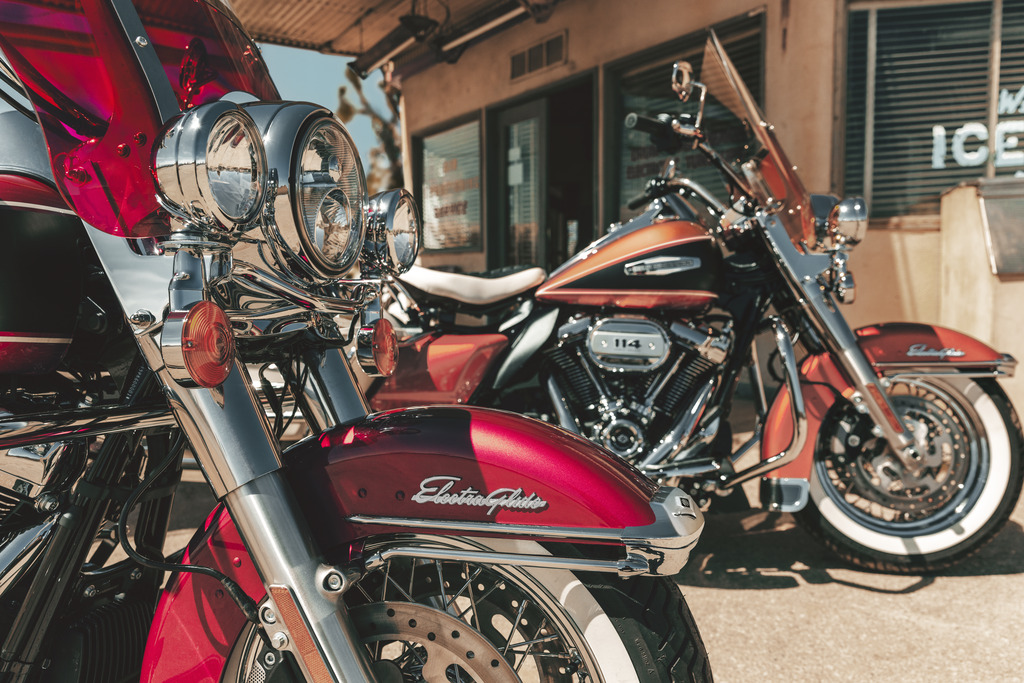 The detachable windshield features a tinted lower section colour-matched to the paint colour. A solo saddle with a black-and-white cover and a chrome rail, mounted over an adjustable coil spring and shock absorber, is another nod to the style of Harley-Davidson® FL models from the 1960s. Chrome steel laced wheels and wide whitewall tyres add to the nostalgic look, as do the brilliant chrome front fender rails and saddlebag rails, front fender skirt, and Ventilator air cleaner cover. An Electra Glide script is placed on each side of the front fender.
The foundation of the Electra Glide® Highway King model is the single-spar Harley-Davidson® Touring frame with a rigid backbone design. The entire chassis is designed for the long haul. A single knob hydraulically adjusts the pre-load of emulsion-technology rear shock absorbers for optimal ride and control based on bike load. The 49mm forks with dual bending valve suspension technology deliver linear damping characteristics for a smooth ride.
A Milwaukee-Eight® 114 V-Twin engine delivers power with authority. For the rider focused on performance this engine accepts all applicable Harley-Davidson® Screamin' Eagle® Stage Upgrade kits and comes with a Screamin' Eagle® fitted exhaust. Standard electronic cruise control holds a steady speed for comfort on long rides. Halogen headlamp and auxiliary lamps provide outstanding illumination while maintaining the nostalgic styling. Reflex™ linked Brembo® brakes offer stopping power. A full suite of Rider Safety Enhancements by Harley- Davidson is standard, including Cornering Enhanced Anti-Lock Brake System, Cornering Enhanced Electronic Linked Braking, Cornering Enhanced Traction Control System, Cornering Drag-torque Slip Control System and Vehicle Hold Control.
Harley-Davidson stands for the timeless pursuit of adventure and freedom for the soul. Go to H- D.com to learn more about the complete line of 2023 Harley-Davidson Grand American Touring, Sport, Adventure Touring, Cruiser and Trike motorcycles, Harley-Davidson Certified™ pre-owned motorcycles, Harley-Davidson Genuine Motor Parts & Accessories, Harley-Davidson MotorClothes and gear, and Harley-Davidson Financial Services.
For more Harley-Davidson UK news check out our dedicated page Harley-Davidson UK News
or head to the official Harley-Davidson UK website www.harley-davidson.com/gb/en/index.html