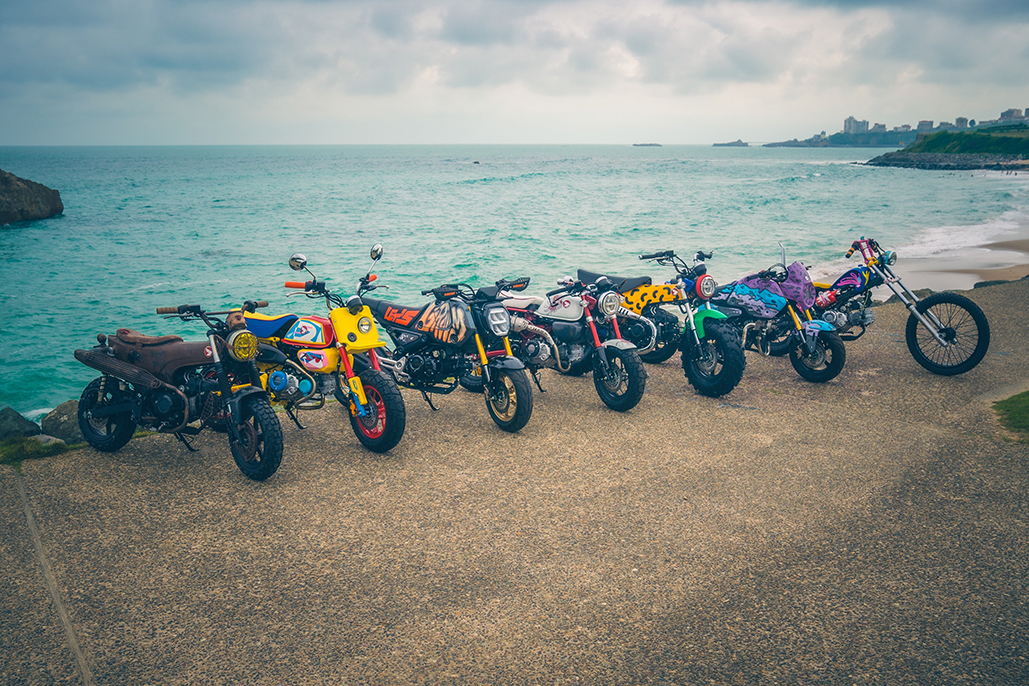 In 2022 it was custom CMX500 Rebels, with Maanboard from Sardinia-based customisers Motocicli Audaci taking the honours, while 2021 saw Mototrafa's CB650R Fenix win for Portugal.
For 2023, it's the turn of the minibikes. Honda have invited seven young artists to collaborate with established bike builders to both inspire a younger generation of riders and spark interest in the joys of two wheelers among new audiences.
If any manufacturer has bikes to do that, it's Honda – with the 125cc Dax, Monkey and MSX125 Grom. Each are icons in their own right, meaning different things to different riders. The retro Dax and funky Monkey both inspire thoughts of the 1970s; the Grom is a rolling, contemporary style statement even before it gets any special treatment.
What all three share is a total 'grin' factor. It's hard not to smile when you see one, never mind ride one. Add to that their unintimidating, miniature dimensions and amazing fuel economy, and you have the perfect starter bike – fun, stylish and frugal.
Hooking up some very creative minds with some equally talented bike creators and letting their imaginations run wild on this trio has produced some very interesting results – the basis for Honda's presence at Wheels and Waves 2023.
This is another of many projects highlighting Honda's commitment to encourage new riders to the market. One key activation in the UK is the Ride Free activation which allows participants to try a Honda motorcycle under the guidance of a Honda Approved Motorcycle Training Instructor. Attendees are taken through the first stages of motorcycling in a safe off-road area with an instructor alongside all the way. Clothing and safety equipment is all provided.
The Ride Free Experience events are taking place across the country throughout the year and will be held either at our Honda Approved Training Dealerships or at their partner training schools. For more information and to book a Ride Free session, please click on the link below:
Ride Free Experience (hondaridefreeexperience.co.uk)
THE PEOPLE AND THE BIKES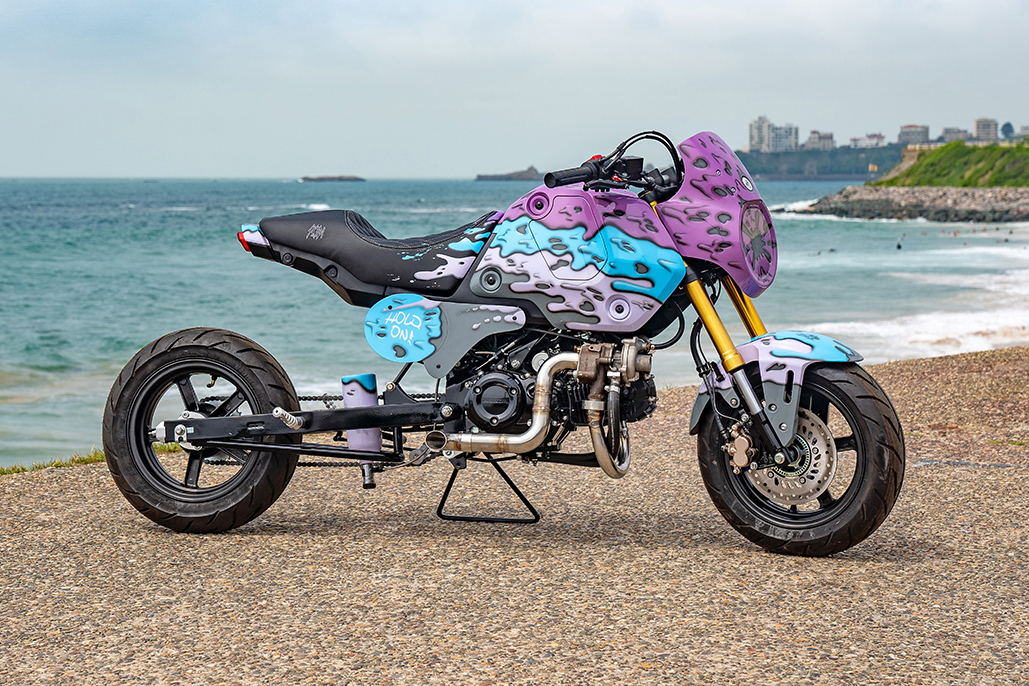 Bike 1 (UK)
Hold On!
Aptly named, as the Grom by Matt B and renowned builder Guy Willison (@guywillison) is not only stretched and slammed like a Pro-Street drag bike, it's also sporting a turbocharger. With nitrous oxide injection for good measure. Why not?
The Artist: Matt B Customs (UK) @mattbcustoms
Matt, MattB Customs, first discovered his passion for trainer customisation at 17 when he started designing trainers for friends and family. His artwork has now appeared on trainers worn by Ed Sheeran, Ariana Grande and Marcus Rashford.
 "It's been such an unreal experience to explore and apply our art style to something crazy that isn't shoes or accessories. We wanted to make it look as though the bike was THAT fast, the paint couldn't even stay on, creating an illusion of the paint dripping off the bike. It's turned out exactly how we wanted it!"
Guy Willison's recent history of working with Honda UK on limited-run special edition CB1100RSs and CB1000Rs made him the perfect man to design and build this special, one-off Grom. Instagram: @guywillison, Facebook: Guy Willison, YouTube: Guy Willison
"When asked by Honda UK to work with Matt on this project, I felt there was only direction we should go – a 'no holds barred' turbo-charged, nitrous oxide injected drag racer pared to the bone with styling and paint job to match.
Team responsible for HOLD ON!:
Guy Willison: (Skid!) Overall design and build, including fairing and general fabrication
Matt B: Paintwork design and seat paint
Jordan Bowen: Turbo/ Nitrous injection, exhaust, swinging arm and general fabrication
Pro Kustom (Arnie): Paintwork
Core Motorcycle: Leather seat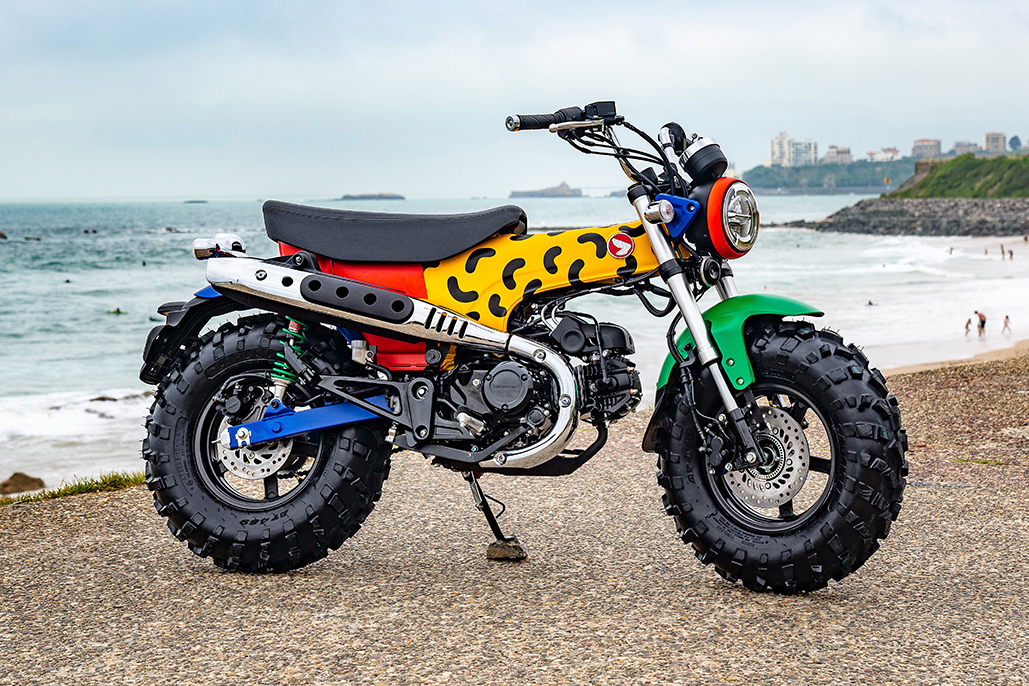 Bike 2 (Spain)
Driving Me Mad
How do you make the adorable even more cute? Simple. Take one Dax and – where you can – add bold splashes of primary colour. Influenced by her young self, Coco and builder UFO Garage (@ufo.garage) have created a two-wheeled visual pop of joy, with chunky block tyres thrown in for good measure.
The Artist: Coco Dávez (Spain)   @cocodavez
Valeria Palmeiro, or Coco Dávez, is a talented artist based in Madrid who has developed her career in painting, photography and art direction. This colourful universe has led her to collaborate with brands such as Chanel, Netflix, Prada and Dior.
"Being part of this project has made me very excited. When I knew the bike I would design, the DAX 125, one of my favourite childhood games immediately came to mind, so I was inspired by the colour palette to give life to each of the parts and pieces of the DAX 125."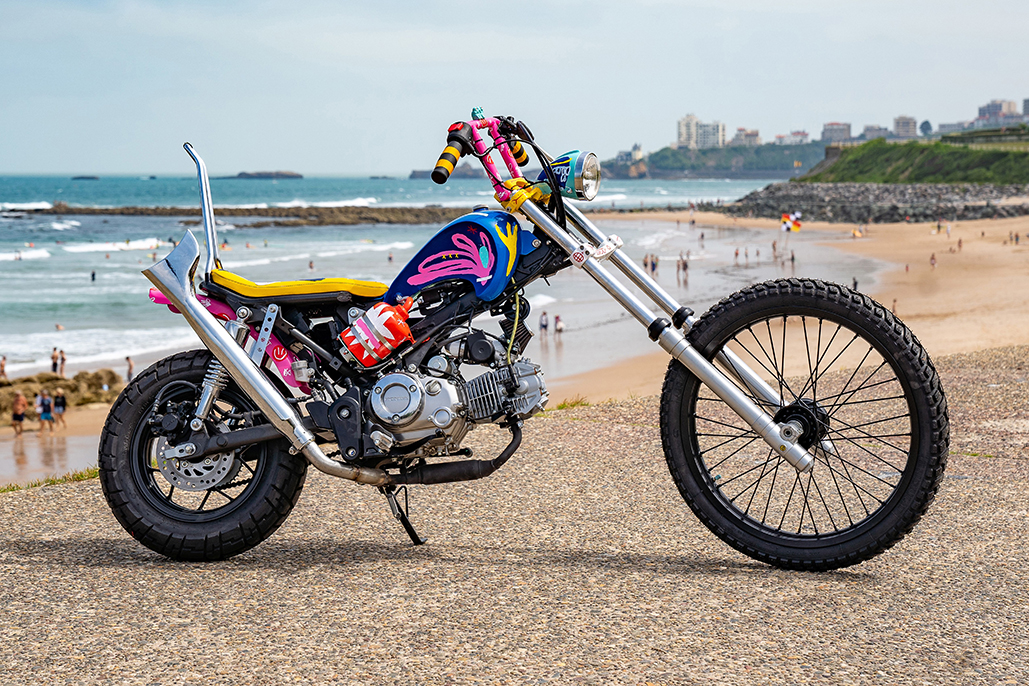 Bike 3 (Austria)
Monkey X Business
Austrian artist Boicut and collaborator Titan Motorcycles (@titanmotorcycles) have certainly pushed the boundaries with their creation. It's an eyeball-popping take on a '70s chopper with radically raked front end, mini-ape 'bars, chromed grabrail and upswept exhaust with fishtail-style end cap.
The Artist: BOICUT (Austria)  @boicut
Boicut's work is for the most part illustrative, combining impulsive lines and shapes. His work has always been inspired by popular culture, skateboarding, the beauty of everyday objects and urban environments.
"I immediately think of what I have in common with monkeys – the love of bananas. This you can find in various stages of abstraction on the bike. In general I wanted to create a bright and colourful bike which would be an eye catcher and fun to look at. I designed the basic colourway and theme digitally but loved being able to paint on the actual bike myself. This way I could respond even better to the unique chopper shape the custom workshop has built."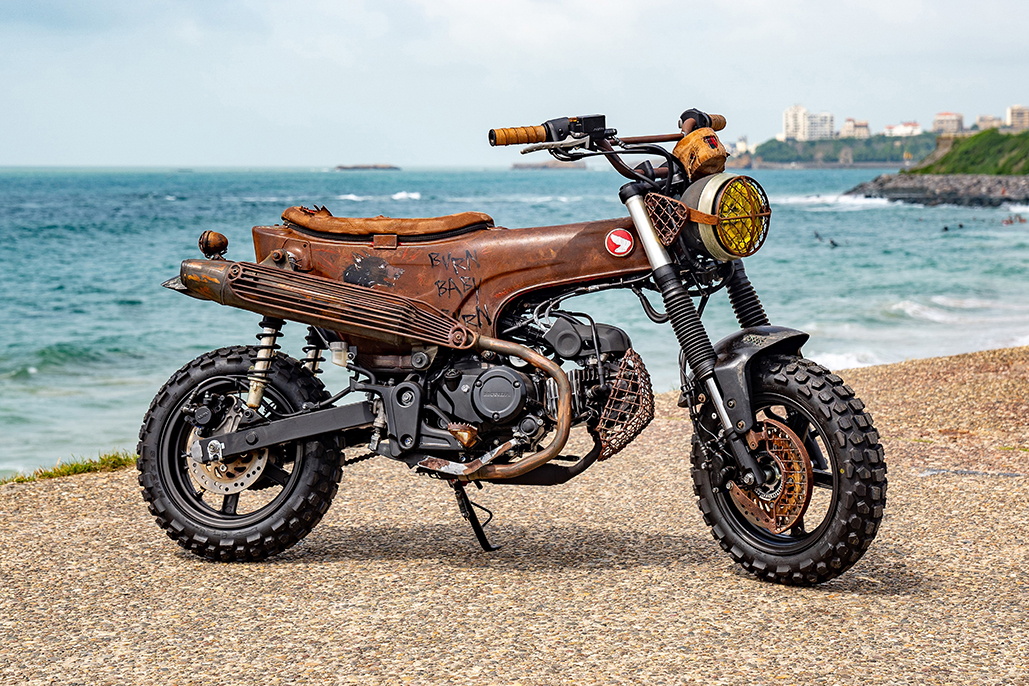 Bike 4 (Portugal)
Furiosa
An awful lot of work between Tamara Alves and her builder, Art On Wheels Garage (@artonwheelsgarage) has turned a stock Dax into a toasted post-apocalyptic roadrunner. Details abound: Block tyres, a wolf motif, graffiti signatures, bespoke exhaust with wire mesh cage, and glimpses of tartan peeping out of the scorched seat cover.
The Artist: Tamara Alves (Portugal) @tamara_aalves
Tamara Alves specialises in work which inserts itself into the world such as street aesthetics and urban context pieces. Her work is based upon the primeval vitality of strong sensations with the idea that our instincts define us.
"I was inspired by the world of Mad Max and Tank Girl. Every modification was carefully chosen, and my standout feature is the wolf motif. Its presence symbolises strength, independence, and a ferocious determination to conquer the open road…"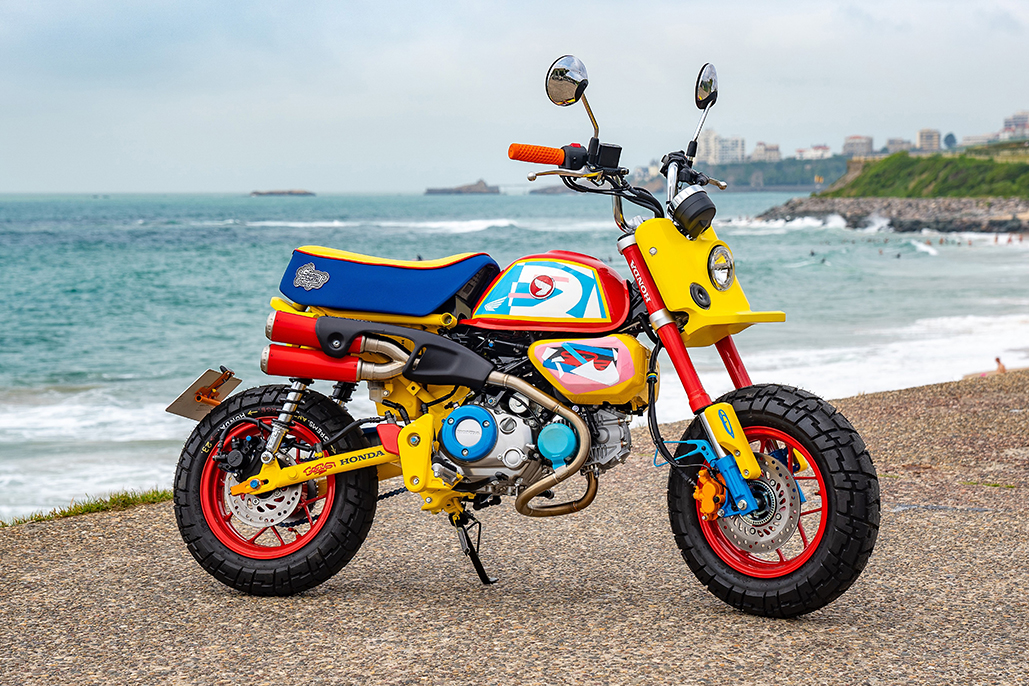 Bike 5 (France)
Tokyo
An absolute riot of colour assembled between French artist Grems and builder George Woodman (@georgewoodman64). Pop-art visuals are pumped with vibrant colour in abstract – and subtly meshed – patterns on every square centimetre of Monkey available.
The Artist: GREMS (France) @insta_grems
Michaël Eveno, better known as Grems, is an artist who draws upon his music as well as his art. Michaël sports 6 solo albums, 8 releases in collaboration with artists such as Klub sandwich, and multiple art collaborations with brands including Nike, Swatch and Converse.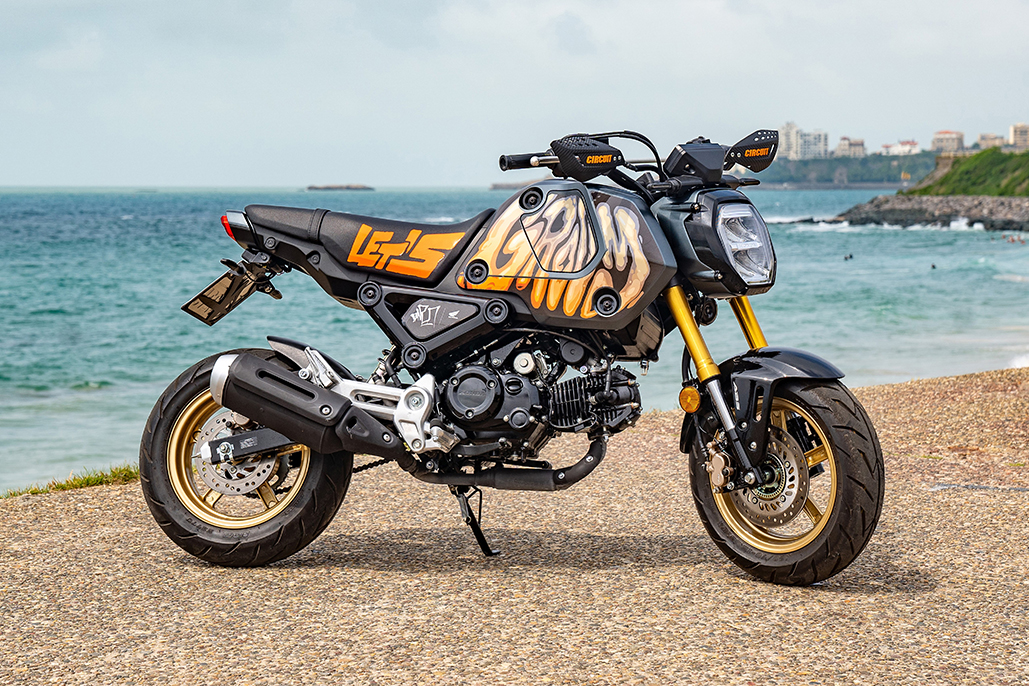 Bike 6 (Italy)
Let's Grom
Franceso Marchesani's Grom has been produced together with Alex Polita (@alexpolita53) an ex-IDM championship Fireblade-riding front runner. Let's Grom spreads its graffiti wings artfully on the fuel tank, drawing an observer into the world of possibilities that two wheels present. As for the bike itself – and as an ex-racer would want – it's even more compact than it started out. Tiny LED indicators, lever-protecting knuckle guards, no mirrors. If you don't need it, lose it!
The Artist: Franceso Marchesani (Italy) @francesco_onem
Francesco Marchesani is an Italian graffiti artist whose street art features in multiple cities, namely: Bologna, Palermo, Milano, Eindhoven and Los Angeles. He takes creative inspiration from animated characters, twisting them into his own street-adorned style.
"In my work, I love to use irony and craziness as a means to reach the observer. I often add a title to my work, to reinforce a concept or give a double reading to the drawing. I like to use bright and cheerful colours, which refer to the world of cartoons and comics."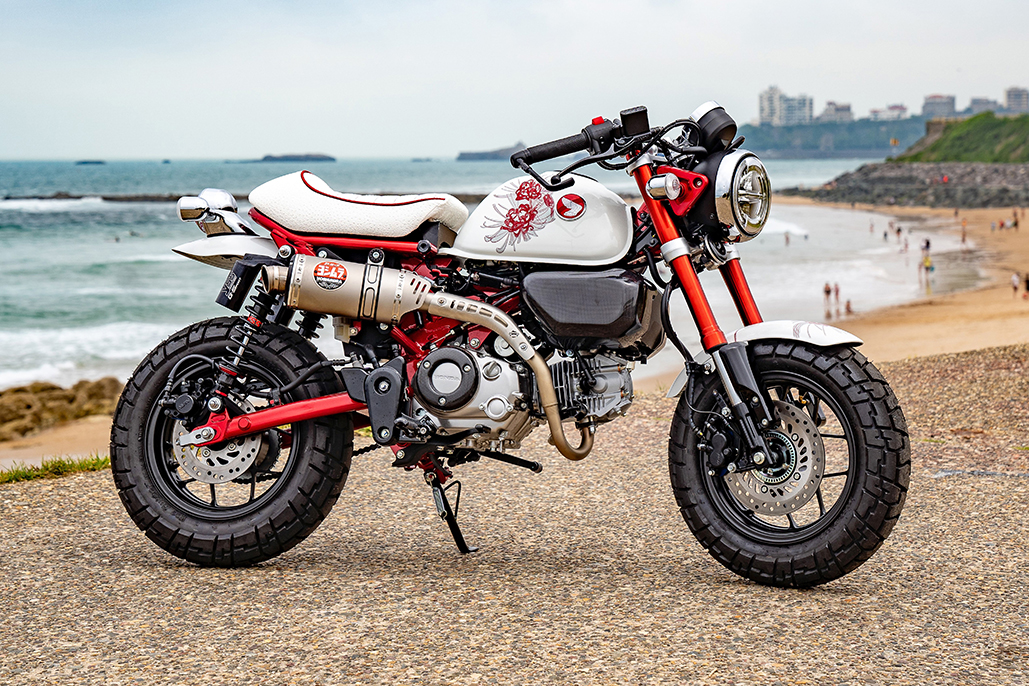 Bike 7 (Germany)
Manjushage
A subtle café racer drawn from a Monkey base by @lanaarts23, and built by Maximilian Zech – a Honda technician based at the flagship Honda Centre dealer in Frankfurt – with a real flair for creativity (@hondamotorrad_de). The Yoshimura end-can and aftermarket remote reservoir rear shocks boost performance and handling, while Lena has crafted the fuel tank and fender white with spider lily motifs (Manjushage in Japanese). Note the tiny monkey on the downpipe heat shield…
The Artist: @lanaarts23
Lana is a German artist recognized for her hyper-realistic artwork. She is widely known on social media as Lanaarts23, where she shares her passion for art and drawing. Lana utilizes coloured and graphite pencils to create her art.
"I have chosen to draw spider lilies because I really like their monochromatic look. As spider lilies are commonly found in Japan, they also have a connection to Honda's roots. Furthermore, the red colour of the lilies complements Honda's red beautifully. I have also included a few insects in my drawings because they are simply enjoyable to depict!"
For more Honda Motorcycles UK news check out our dedicated page Honda Motorcycles UK News
or head to the official Honda Motorcycles UK website honda.co.uk/motorcycles.html