The Shuttleworth Motorcycle Sale 30th July 
While it is not exactly going for a song, this celebrity bike is a bargain at an estimate of £5,000 to £7,000 says Mark Bryan of Silverstone Auctions who are selling it at the Shuttleworth Motorcycle Sale on July 30th in Bedfordshire.
Jools Holland owned the 1959 Velocette Venom 500cc for 25 years from 1988 to 2013 and it was used by him over the years at numerous events. It is a well-known bike and featured in the Rod Burris book 'Velocette Motorcycles'.
Built by Velocette as a BSA Gold Star competitor it was one of their best-selling machines. The bike has a 500cc OHV, air-cooled, 34bhp, single-cylinder engine and 4-speed gearbox. It appears to be an older restoration and currently fitted with Rodark panniers.
Some 5,721 of these bikes were produced between 1955 and 1970. In 1961 a factory-prepared Velocette Venom and a team of riders set the 24-hour world record at a speed of 100.05 mph in France. It was the first motorcycle to average over 100 mph continuously for 24 hours.
The bike has not been used for the last few years so may require some recommissioning before road use but the engine turns freely with good compression.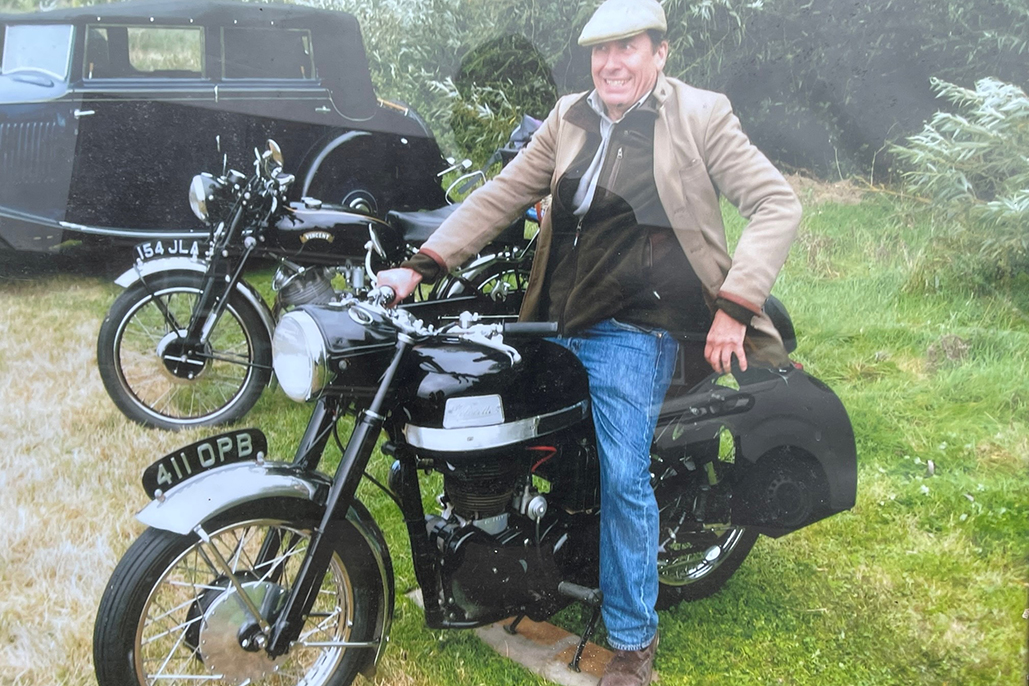 It was bought from Holland by its current owner and comes to auction complete with a handwritten receipt from Jools Holland and a framed photo of Jools Holland sitting on the bike included in the sale.
Jools Holland is a much-loved figure in the British music scene. He is a composer, pianist, bandleader, and broadcaster as well as an enthusiastic motorcyclist. He was awarded an OBE in 2003 for his services to the British music industry.
He was an original member of the band Squeeze and has worked with many artists. From 1982 until 1987, he co-presented the Channel 4 music programme The Tube. Since 1992, he has hosted 'Later… with Jools Holland', a music-based show aired on BBC2. Holland is a published author and appears on television shows besides his own.
This motorcycle, along with over 100 other bikes will be coming up for auction at the Silverstone Auctions Shuttleworth Motorcycle Sale, Biggleswade, Bedfordshire, SG18 9EA on Sunday 30th July. You can view all the motorcycles at this sale online at www.silverstoneauctions.com or in person at the venue on Saturday 29th July. For more information or to speak to a Silverstone Auctions motorcycle specialists about entering or buying a bike please call +44 (0) 1926 691 141 or email enquiries@silverstoneauctions.com
More auction news can be found on our dedicated page here: Motorcycle Auction News
For more information on Silverstone Auctions head to the official website: silverstoneauctions.com/