Collectors item: One of just six survivors, Super rare pre-production 'Sandcast engine', 1977 Honda CBX £25,000 – £35,000 – ready to go at Silverstone Auctions at Devitt MCN Festival, May 14, East of England Arena, Peterborough.
This remarkable piece of motorcycle history, hand built by Honda in 1977 with a rare sandcast engine, made prior to the launch of the then new CBX model with matching engine and frame numbers comes to the market for an estimate of £25,000 to £35,000 with Silverstone Auctions on May 14. The lucky bidder who wins this bike will have a showpiece for their collection.
Mark Bryan of Silverstone Auctions Bike Division, says: "I've been involved with pre-production bikes in the past and they always attract the interest of serious collectors, but this CBX example is probably the rarest I've dealt with."
In 1978 Bike Magazine summed this beautiful machine up when it wrote: "The CBX was quite simply a marvellous revelation which has genuinely elevated the status of motorcycling. Few people will be able to afford to run one, but then the best is never cheap. Above all, such a motorcycle should not be condemned because it's an excess."
Some 41 examples were scheduled to be built, actual numbers vary as not all were assembled and only six examples are known to still exist with most of these being in either museums or private hands all over the world.
The engines on the pre-production models were "sandcast" development units and never meant to fall into private hands. Just three of the "sandcast" engines survived, two belong to Honda and the other remains in this bike.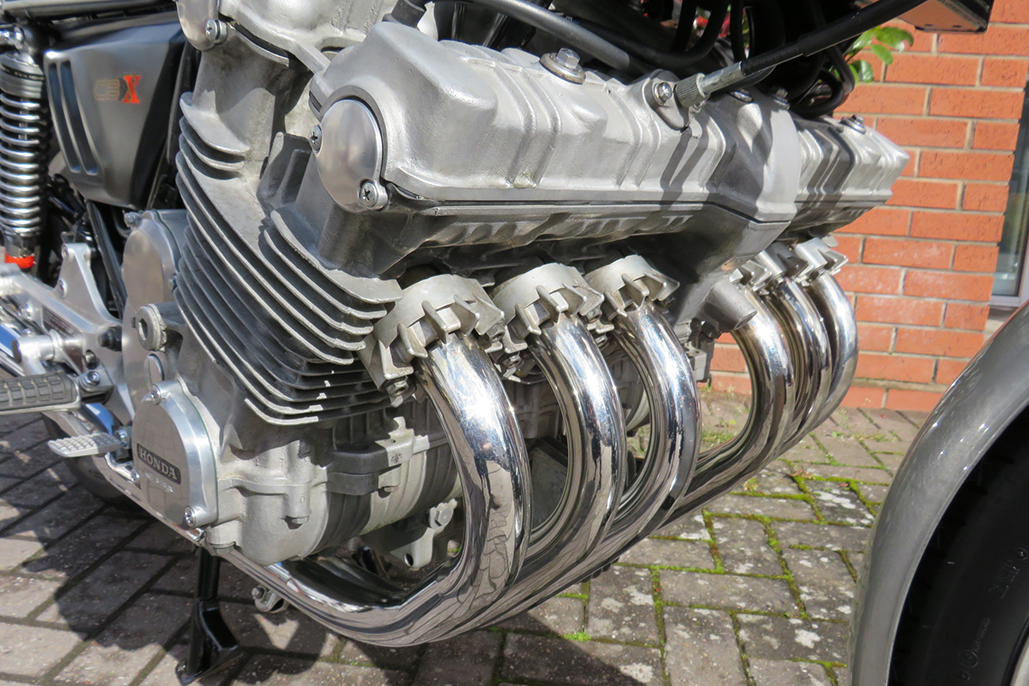 This example was originally sent to Belgium for promotional and development reasons and remained there up until recently. Now UK registered and sympathetically restored to running order and fitted now with its correct 240kph speedo.
Complete with Honda dating letter and certificate of authenticity, this is a super rare piece of Honda history and a must for any serious Honda collector.
Weighing around 550lbs and with 105bhp on tap, the CBX was good for over 130mph and did the standing quarter-mile in around 12 seconds. Its performance and its sheer 'presence' on the road makes it a head turner wherever it goes. Few bikes can match it for charisma, design appeal and, above all, that sound!
This motorcycle, along with over 140 other bikes will be coming up for auction at the Devitt MCN Festival of Motorcycling Sale at the East of England Arena, Peterborough on the 14th May. You can view all the motorcycles at this sale online at www.silverstoneauctions.com or in person at the show on the auctions viewing day on Saturday 13th May. Now is the time to register to bid, which can also be done online. For more information or to speak to a Silverstone Auctions motorcycle specialists call +44 (0) 1926 691 141 or email enquiries@silverstoneauctions.com.
More auction news can be found on our dedicated page here: Motorcycle Auction News
For more information on Silverstone Auctions head to the official website: silverstoneauctions.com/