Yamaha's new PW-XM flagship eMTB drive unit: Marking thirty years as the pioneer of the e-Bike system.
In recent years the global demand for eBikes has expanded dramatically as bike manufacturers have fully embraced the latest drive unit technology and introduced stylish new models offering increased range and performance. The eBike segment now accounts for a significant proportion of the total bicycle market, and this quiet and economical form of transport is the fastest-growing sector in zero emission personal mobility.
Yamaha Motor pioneered the first e-Bike back in 1993. It mounted the first iteration of the company's signature Power Assist System (PAS), in which an electric motor is used to provide an assistive force to the pedalling power of the rider in a manner that feels natural and in tune with human perceptions. Simply named the "PAS" after its headline feature, the bicycle was hailed as the first of its kind in the world and enjoyed a successful market debut.
Key factors behind the worldwide success of Yamaha's range of compact, high torque drive units include class-leading electronic control technology that provides instant power with a seamless and natural feeling – as well as high quality, outstanding reliability, and a first-class global backup.
New PW-XM: Yamaha's new ultra-light flagship eMTB motor
The new PW-XM is the lightest drive unit in the range, and its launch 30 years after Yamaha invented the eBike underlines just how far this zero-emission technology has progressed.
Aimed at the high-end eMTB market, the PW-XM features a specifically-designed magnesium housing that keeps its overall weight down to just 2.6 kg. Yamaha has extensive experience in the design and manufacture of specialist magnesium components for its 1,000 cc R1M Supersport motorcycle, and this knowledge has been used in the construction of the ultra-light PW-XM.
With the reduced weight and the improved heat dissipation, this flagship motor is able to produce consistently strong torque even when under high loads for long periods.
As well as standing for 'Magnesium', the 'M' in PW-XM is also a reference to the motor's assembly place in Morimachi, Japan – a bike-centric city famous for its mountain biking and cycling tourism, making it the perfect place for the birth of this new flagship eMTB drive unit.
Highest torque-to-weight ratio
With a maximum torque figure of 85 Nm and weight of just 2.6 kg, the PW-XM has the highest torque-to-weight ratio in the Yamaha range, making it an ideal drive unit for eMTB applications. It is also fully compatible with Yamaha's existing PW-X3 and PWseries S2 drive units, enabling manufacturers to create three different eBikes using the same chassis design.
Yamaha Pure Ride: Ideal mountain biking power delivery
With its minimal external dimensions combined with Yamaha's highest torque-to-weight ratio, the PW-XM is designed specifically for the premium eMTB market. Its compact layout offers greater freedom to bike manufacturers in their next generation chassis designs – and the powerful torque ensures strong performance on Alpine tracks, steep hills or sandy trails.
Pure Ride is how Yamaha describes the unique power delivery of the new PW-XM. Using state-of-the-art sensing electronics including Automatic Assist Mode, tuning detection algorithms and Zero Cadence Technology, the PW-XM rider will experience strong, seamless and natural feeling power at all times.
Displays and batteries
The new PW-XM can be paired with any of the company's displays and batteries, best in conjunction with the minimalistic and highly technical Interface X.
PW-XM Product Highlights
All new premium eMTB drive unit, designed for extreme off-road challenges as well as sporty trail rides.
Best in class riding experience: 85 Nm and 2.6 kg – Yamaha's most powerful and lightest design, with the highest torque-to-weight ratio.
Magnesium housing, manufactured in house using Yamaha Motor's motorcycle technology, ensures highest quality look and feel.
Improved heat management.
Equipped with Yamaha's advanced sensing technologies – Zero Cadence Technology and Automatic Support Mode – for a powerful, responsive and seamless Yamaha Pure Ride experience.
Walk-assist feature.
Compatible with PW-X3 and PWseries S2 motor brackets – one frame design can accommodate three different Yamaha motors.
Compatible with all Yamaha displays and batteries.
More information
To find out more about Yamaha eBike products, please visit our website where the detailed product information, as well as a history of Yamaha products and links to main customers are available.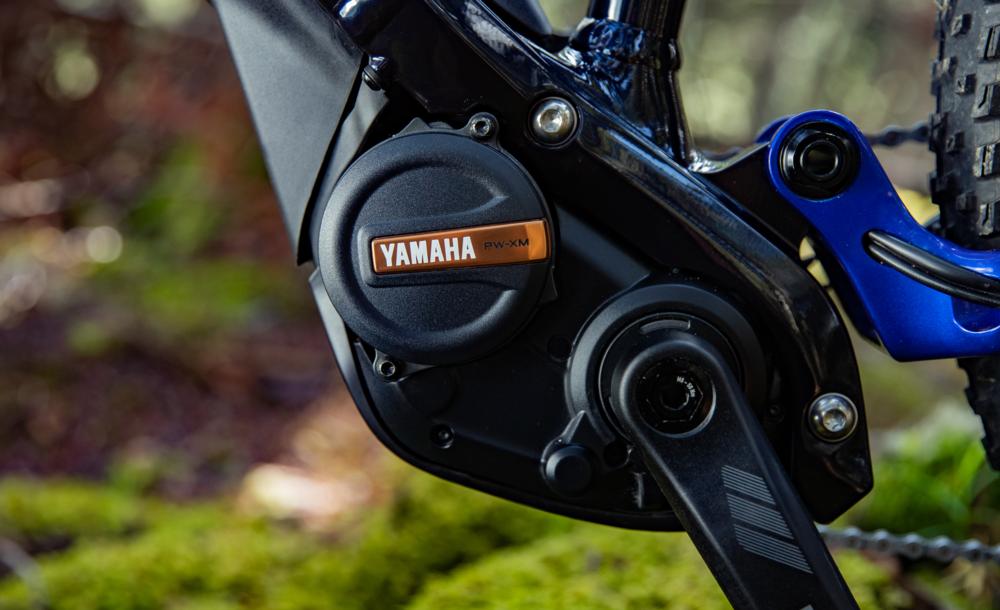 For more Yamaha Motorcycles UK news check out our dedicated page Yamaha Motorcycles UK
or head to the official Yamaha Motorcycles UK website yamaha-motor.eu/gb/en/