The all-new Dunlop Trailmax Raid is designed for 50% on-road and 50% off-road use, combining expertise and technology from Dunlop's extensive adventure riding and touring range with that from its off-road sector.
It is suitable for a wide range of bikes from mid-size dual sports to large adventure bikes, offering off-road ability and predictability paired with superb wet weather capability and adventure touring performance.
Rally raid-inspired design meets leading road tyre technology
Trailmax Raid's design was inspired by Dunlop's D908 RR, a purely off-road rally raid tyre characterised by the pronounced blocks on its tread, which are now a key part of Trailmax Raid's profile. For Trailmax Raid, there are bars between these blocks to improve handling and stability for heavier bikes, while grip at higher lean angles when riding on the road is ensured by smaller gaps between blocks and large centre blocks on the rear tyre.
This off-road tread pattern is combined with Dunlop's latest technologies that are available in its premium on-road tyres. These include:
Dynamic Front Formula: This combination of Dunlop's experience brings together a unique section profile and casing design to give a confidence inspiring feeling and an optimal front/rear balance.
Hi-Silica compound: An increased Silica filler ratio promotes compound flexibility at low temperatures to improve wet weather grip and mileage. The compound itself is an all-new formula, uniting the properties required to withstand off-roading with those of Dunlop's trail road tyres.
CTCS: Dunlop's Carcass Tension Control System gives consistent tension across the whole casing width. This optimises the contact patch.
JLB: The Jointless Belt is a trademark Dunlop design, developed in world championship racing, which boosts durability and consistency.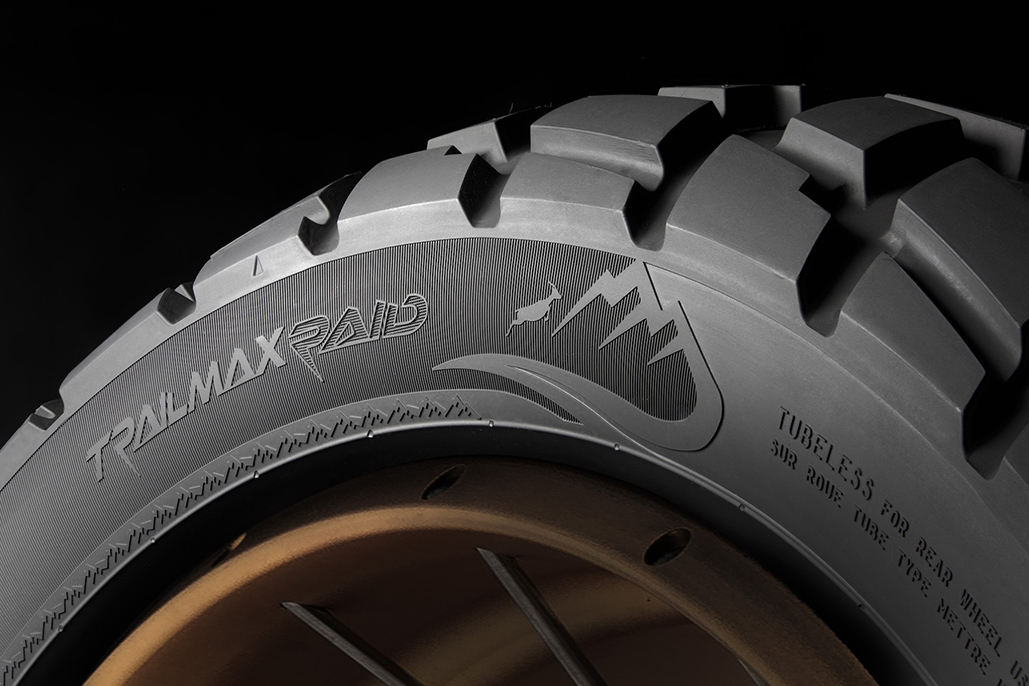 From off-road to touring: Dunlop has the adventure segment covered
The new tyre sits in Dunlop's trail range alongside Trailmax Meridian, which has become a highly popular tyre for adventure touring since its release three years ago. Trailmax Meridian offers off-road capability for occasional use, whereas Trailmax Raid is designed specifically for riders who demand more regular off-road performance.
With a range stretching from Trailmax Meridian to the pure off-road D908 RR, as part of a portfolio that includes the incredibly versatile Mutant, the value-orientated Trailmax and Trailmax Mixtour; the addition of Trailmax Raid covers the needs of riders requiring ultimate versatility from their adventure bikes.
Luca Davide Andreoni, Marketing Manager, Dunlop Motorcycle Europe: "By combining our expertise and technologies from the off-road, adventure touring and sports touring segments, we have created a true 50/50 tyre that exceeds expectations for a wide range of bikes in varied conditions. From a trade perspective, Trailmax Raid is an important product, as there is faster growth in the on/off road segment than any other part of the trail tyre market.
"From a rider perspective, Trailmax Raid gives reassuring performance on wet roads, unlocking even more versatility than they might expect from a tyre that also delivers excellent off-road braking and traction."
Beyond adventure: A tyre that transcends segments
The Trailmax Raid size kit goes beyond traditional adventure bike models, covering everything between mid-size Dual-Sport to crossovers as well as large displacement adventure touring bikes.
Trailmax Raid will be available in three front sizes covering 19 and 21-inch fitments, and six rear sizes for 17 and 18-inch wheels. Initial sizes are on sale now, with the remainder being released during Q2 2023.
For more Dunlop Tyre news check out our dedicated page Dunlop Tyres
or head to the official Dunlop Tyres UK website visit dunlop.eu/en_gb/motorcycle.html