Many thanks to Triumph UK I spent three weeks with this beautiful machine which culminated with The Distinguished Gentlemans Ride in West Sussex.
As it come down the ramp my first impression is it's a well made, beautiful looking and throaty sounding modern classic bike, here my quick review.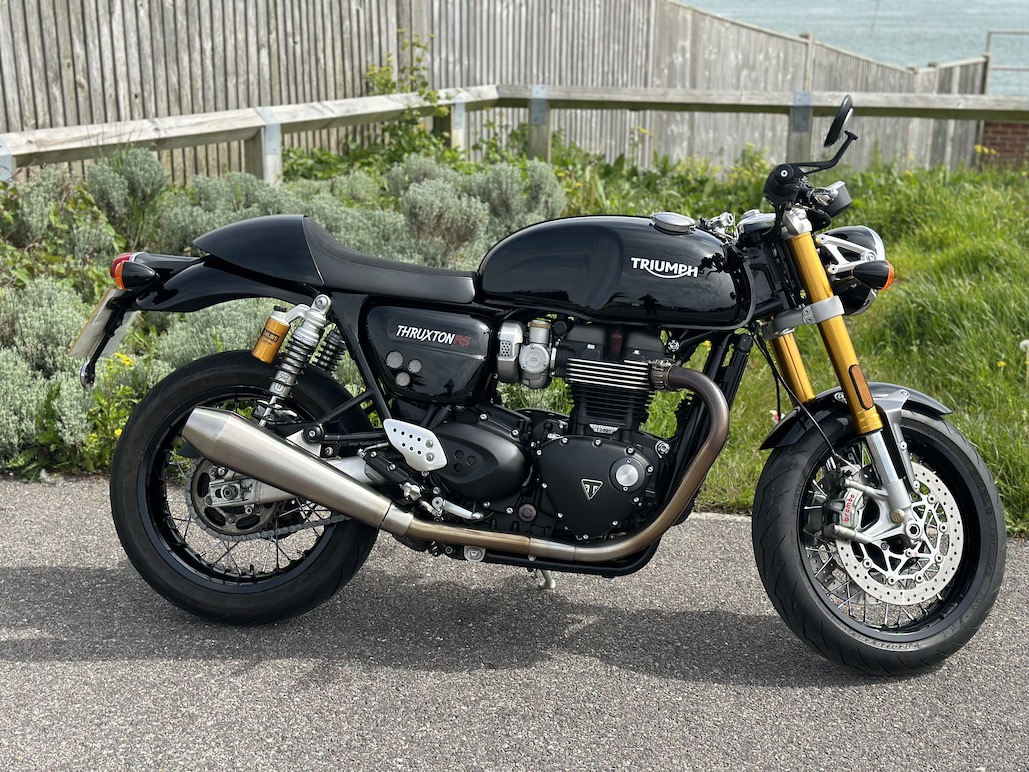 The Triumph Thruxton has been an iconic motorcycle since its first release in the 60's. The Thruxton was named after the famous Thruxton Circuit, where Triumph had a lot of success. Fast forward to today, and the latest version of the Thruxton, the RS, is a modern classic that pays homage to its rich history while incorporating the latest technology and engineering.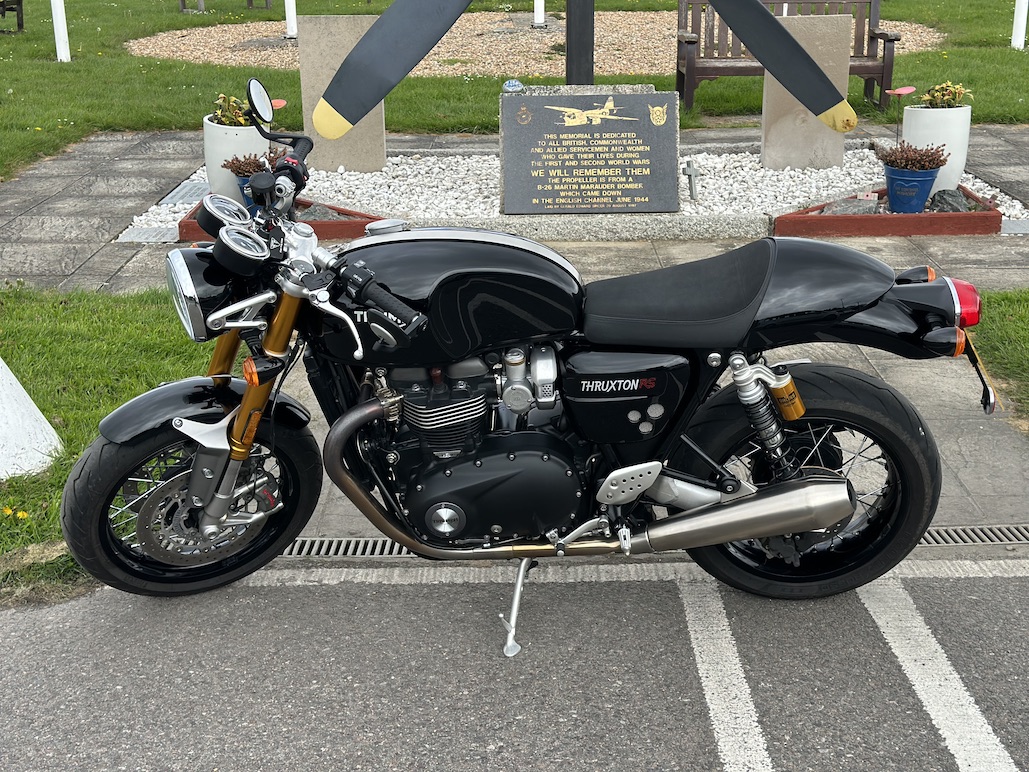 The Thruxton RS is powered by a 1200cc parallel-twin engine that produces 103 horsepower, this engine is mated to a six-speed transmission and is capable of reaching a stated top speed of 140 mph.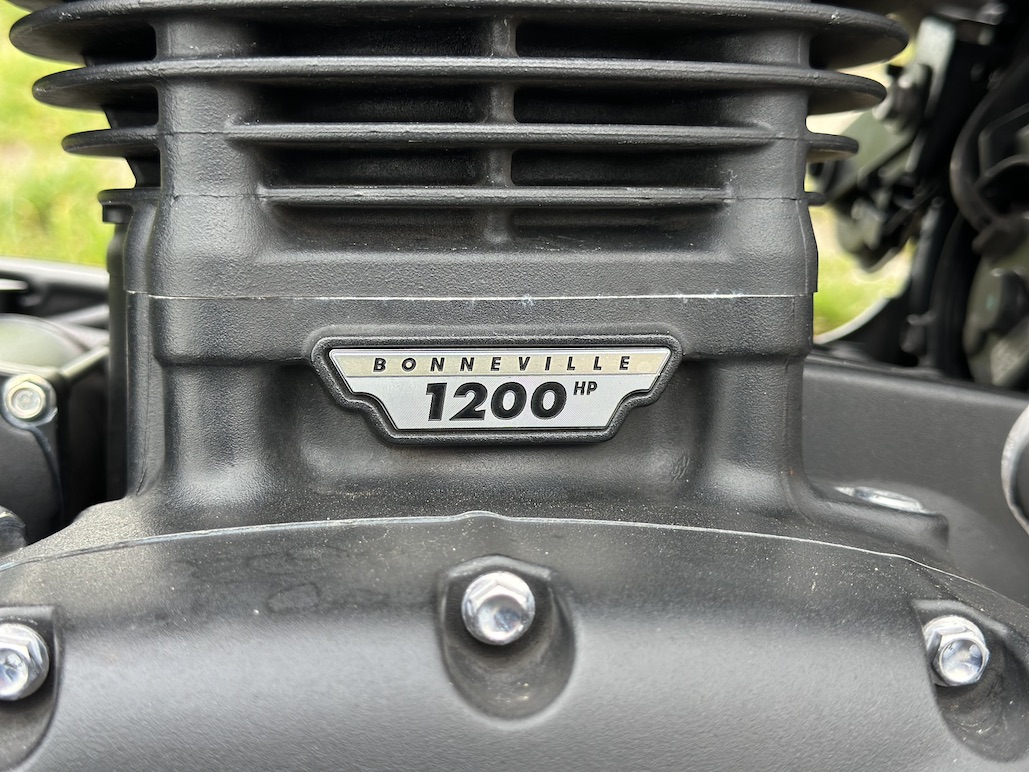 The Thruxton RS has a classic design that is inspired by the original Thruxton café racer. It features a low-slung café racer-style seat (no pillion), a classic round headlight, and a sleek fuel tank. The bike also features a modern digital instrument cluster, LED lighting, and a single-sided swingarm.
The engine is ready to unleash its power whenever you command it to do so and the sporty suspension setup further enhances the riding experience, especially along the tricky bends. The rear Ohlins dampers are adjustable and combined with the front Showa forks, the bike delivers quite a planted ride on uneven surfaces despite its suspension being oriented towards athletic characteristics.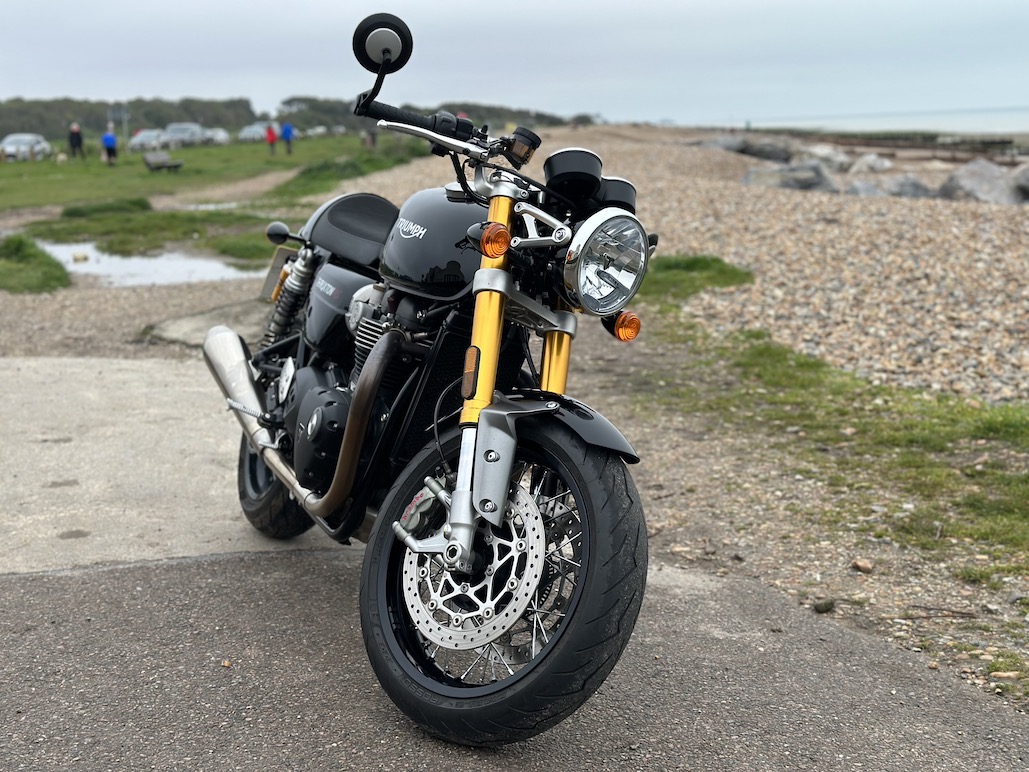 The Thruxton RS is equipped with a range of modern features that make it a great choice for riders who want a classic look with modern performance. Suffice to say that Thruxton RS would be easy to manage in the dense city areas, but it is on the highways where it truly shines. The bike also has a range of rider aids, including ABS, and a traction control system.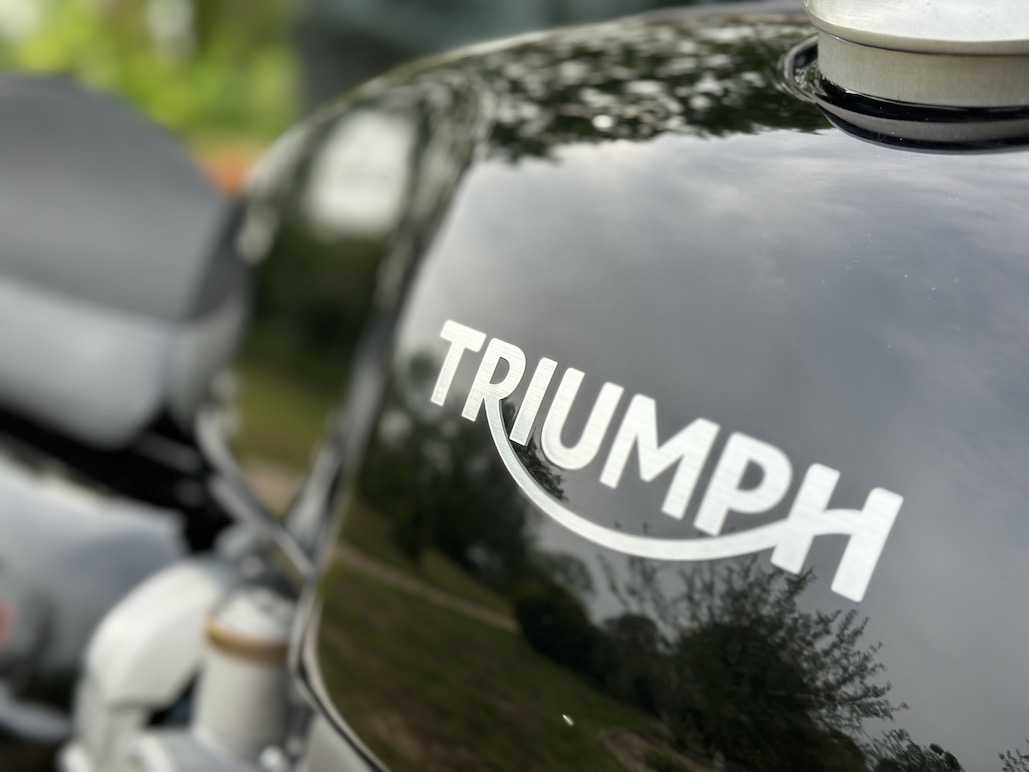 The Thruxton RS is a great choice for riders who want a powerful and stylish motorcycle. Its classic café racer styling is sure to turn heads, while its modern features and powerful engine make it a great choice for both experienced and novice riders. With its combination of power and style, the Triumph Thruxton RS is sure to be a hit with riders of all levels.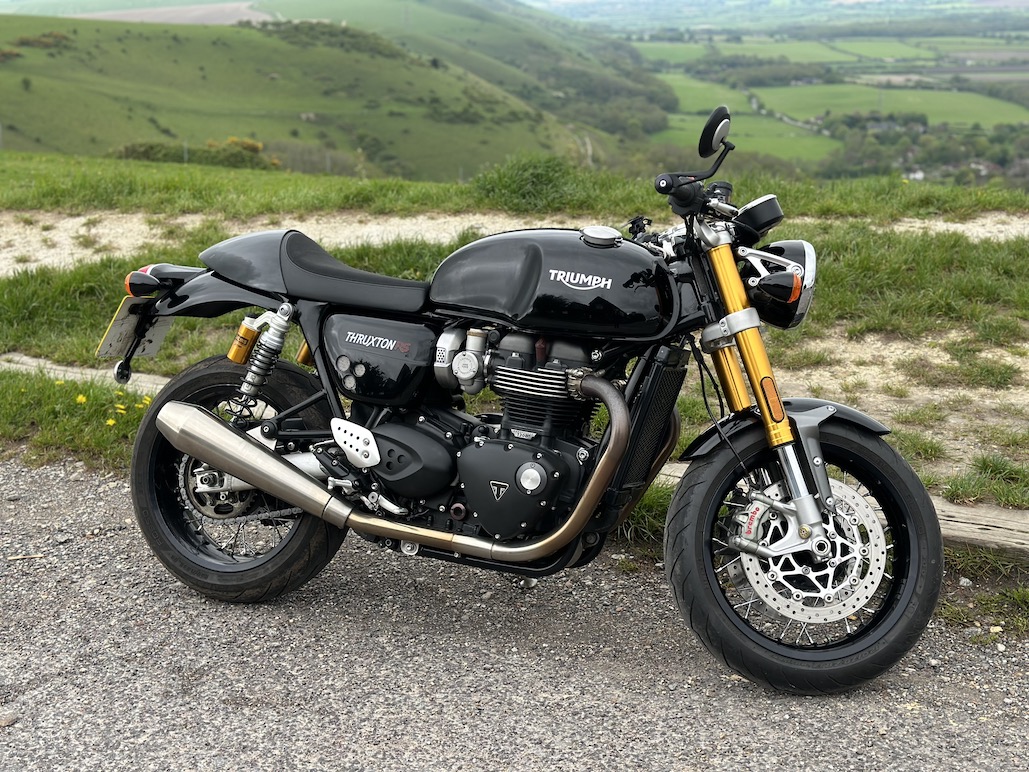 My Conclusion
Overall, the Triumph Thruxton RS ticks all the vital boxes and delivers great value for its price which may seem a bit on the higher side to some, but the flawless finishing and the fun riding experience make up for it.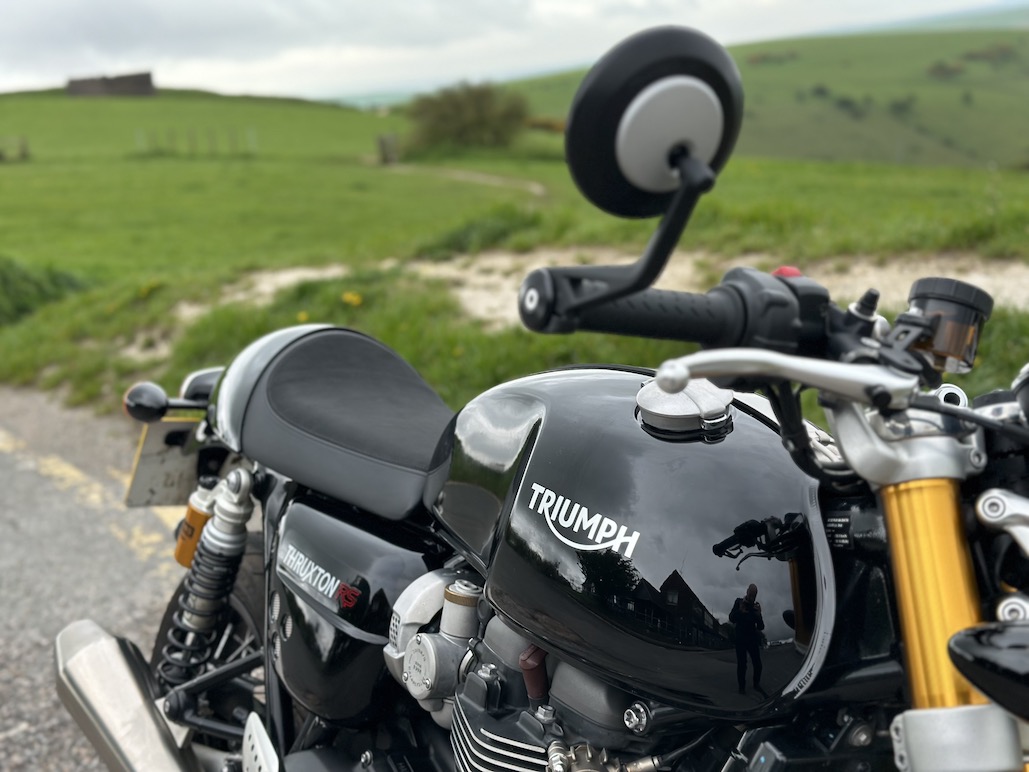 As for the riding experience, the Thruxton RS combines the best of both aggressive riding experience and traditional café racer goodness. If you're looking for a classic cafe racer look with modern features, then the Thruxton RS is an obvious choice.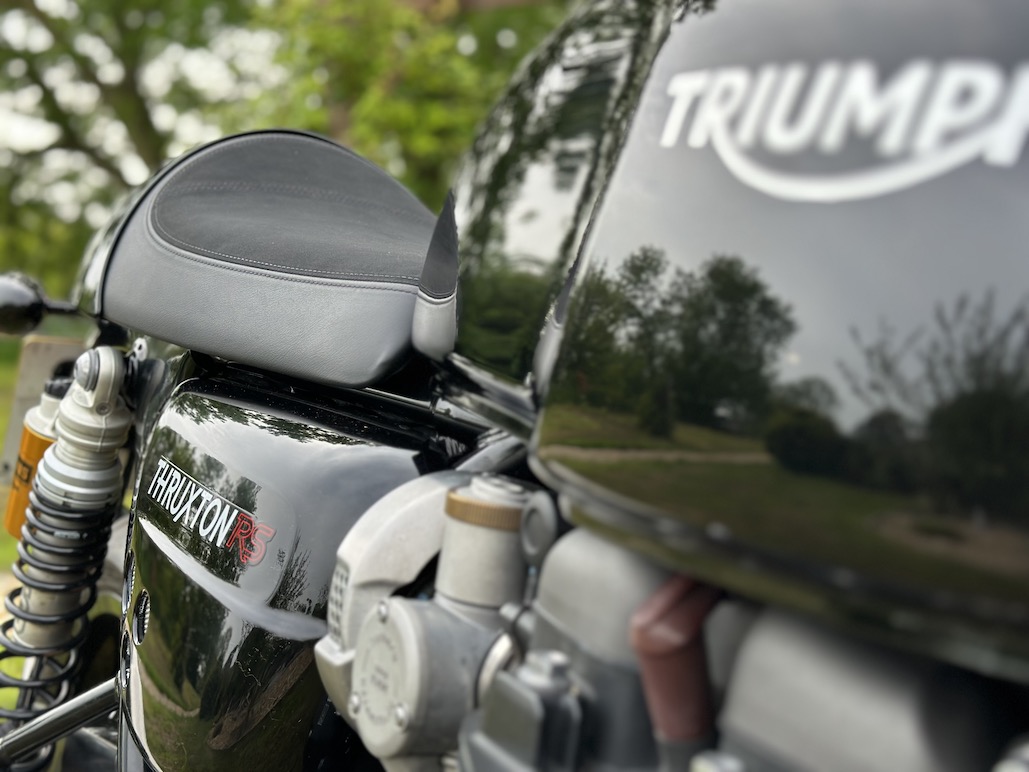 Like with the Triumph Bobber this is a naked bike so once you take it above say 50 mph you will get buffeted about. You could invest in their Dolphin fairing but personally I think it ruins the looks but each to their own.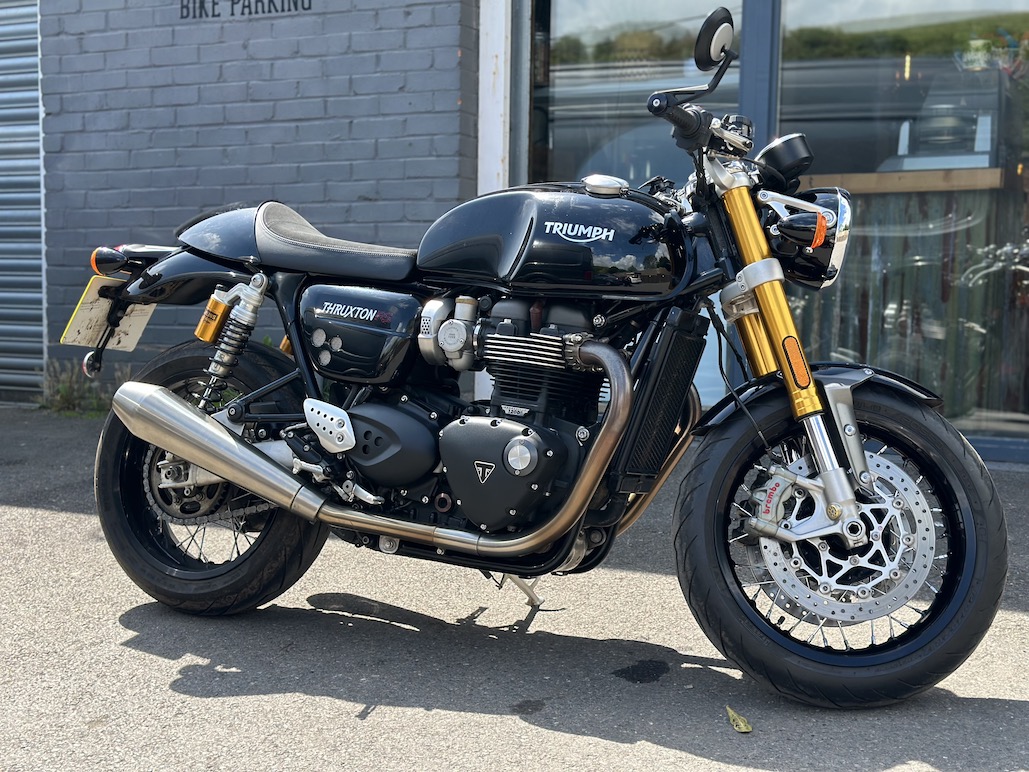 The Triumph Thruxton RS is now officially my 2nd favourite modern classic coming in a very close 2nd to the Triumph Bonneville Bobber.
Thanks to Ells from Ride and Rest for his insta 360 footage whilst in the DGR
As earlier stated I took part in the The Distinguished Gentleman's Ride in West Sussex for the first time. To be perfectly honest I'm not a group rider more of a solo rider, I like to go at my own pace so I was apprehensive at taking part in the DGR. I have to say I really enjoyed the ride everyone was courteous, no overtaking at speed etc. My only issue on the ride with Thruxton was there was a lot of stop and start due to traffic and found the bike was getting quite hot.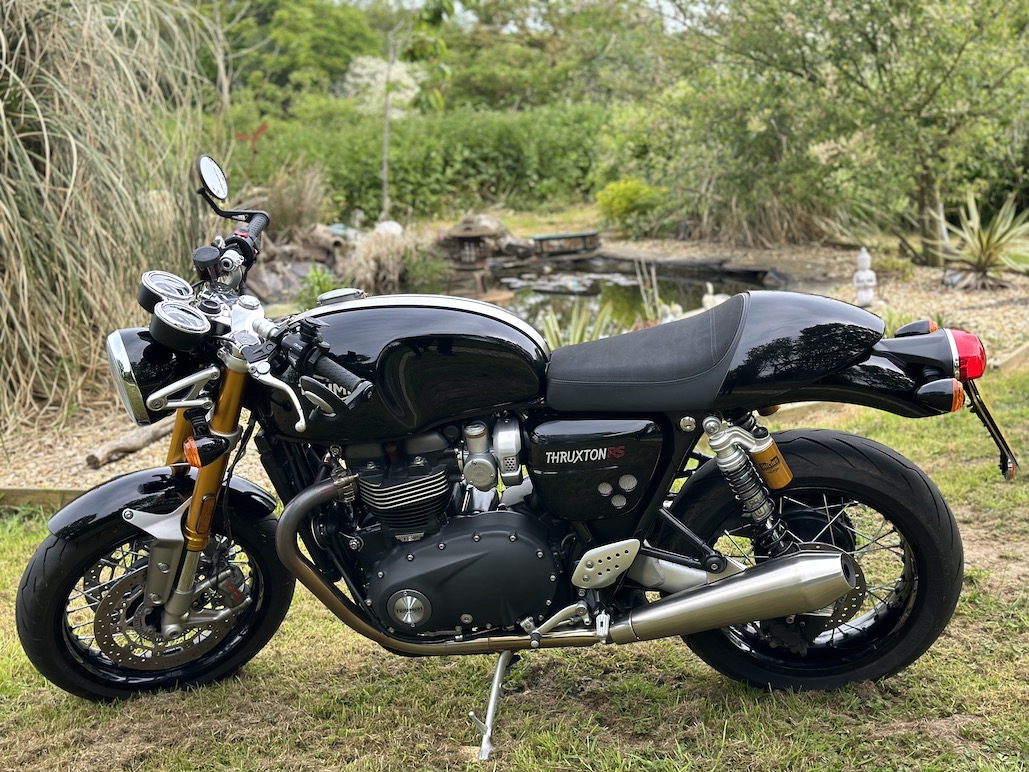 Helmet worn on the DGR and in test kindly supplied by AGV UK and Bell Helmets UK
Jacket, Armoured Jeans, Gloves and Boots worn in test kindly supplied by rst-moto.com/
Bluetooth Alarmed Disc Lock used while storing bike kindly supplied by Xena Security
Motorcycle iPhone Mount with Vibration Damper Supplied by Quad Lock